Pregnancy Chiropractic at Vitality Chiropractic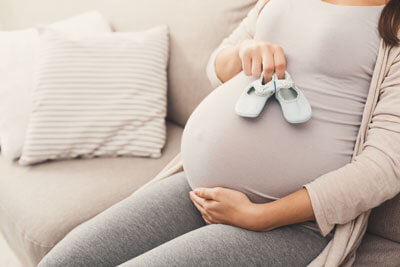 During pregnancy, a woman's body is constantly shifting and changing to make room for her growing baby. Such rapid change is often accompanied by a series of aches and pains. Chiropractic care can be used to relieve prenatal discomfort and keep expectant mothers and their unborn babies comfortable before, during, and after labor and delivery.
Vitality Chiropractic has the knowledge and expertise to give you relief and set you up for your ideal birth process. Dr. Kathleen is here to ensure that your pregnancy and labor and delivery go as smoothly as can be.
Musculoskeletal aches and pains are not uncommon while pregnant. These changes are caused by the sudden and frequent shift of your anatomy. Because your abdomen is quickly growing outward, the curve of your lower back increases and your body can easily become misaligned.
Chiropractic adjustments are a natural way to realign the body, alleviating immediate discomfort and encouraging utmost health while pregnant.
There is an intimate connection between the mother's nervous system and the baby's nervous system. While pregnant, your spine and pelvis is shifting. However, these factors do not only affect your comfort. They also affect the development of your baby. Chiropractic care during pregnancy allows for optimal fetal growth and development.
During pregnancy, women feel the many discomforts that come with their bodies moving and stretching to house their growing little ones. These quick changes often lead to a variety complaints, such as:
Low back pain
Headaches
Hip pain
Sciatica
Swelling of the legs and feet
Poor sleep
If left alone, these symptoms can worsen and increase the risk of unwanted complications during pregnancy and labor and delivery. With the help of careful, specific chiropractic adjustments, your body can remain aligned – ultimately, keeping you comfortable and reducing labor pain as well as overall delivery time.
Dr. Kathleen adjusts pregnant women using a special technique called the Webster Technique. The Webster Technique is a specific chiropractic adjustment for pregnant women. It addresses structural shifts of the pelvis in order to restore normal neuro-biomechanical function and balance in the pelvis to allow for a healthy pregnancy and birth. This technique can help with round ligament and pelvic pain, uterine torsion, can increase the amount of room for baby to grow and develop, and can also improve labor and delivery outcomes!
We Are Here for You
We want to care for your family as it grows and develops, beginning with you. Because your health is the foundation of your baby's health, it is important to ensure your well-being. Vitality Chiropractic is here to help your pregnancy and birth process go as smoothly as possible.
Why wait to take advantage of a natural safeguard for both you and your little one? Contact us to learn more about what we might have to offer you.
CONTACT US »

Pregnancy Chiropractor Bayport, Stillwater, Oak Park Heights MN | (651) 342-2199