Chiropractic Care at Vitality Chiropractic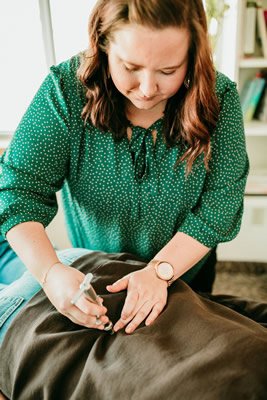 Chiropractic care is a safe, natural health care alternative. It is designed to keep the entire body healthy by promoting the health of the nervous system. Chiropractic adjustments keep the spine aligned, which, in turn, strengthens brain-to-body communication. If your brain and your body are communicating properly, your body as whole is able to function as well as possible.
Our Approach to Care
Chiropractic adjustments retrain your body how to adapt to stress. Physical, chemical, and emotional stress can all interfere with the body's natural processes. Our ultimately goal is to use chiropractic adjustments to help your body cope with stress, heal, and thrive without relying on drugs or surgery.
At Vitality Chiropractic, we utilize a gentle approach to chiropractic adjustments called Torque Release Technique (TRT). This chiropractic technique does not involve traditional twisting, popping, or cracking of the spine. Dr. Kathleen is one of few chiropractors advanced certified in TRT – ultimately, allowing her to care for patients of all ages and conditions.
What Is Torque Release Technique?
Torque Release Technique® is commonly referred to as TRT. One of the most scientifically researched techniques in the chiropractic profession, it relies on a small handheld tool called the Integrator™ to adjust the spine. Through years of research, TRT has been proven to produce better and faster results. In fact, it is the only technique to come out of randomized clinical trial.
TRT is a precise, quick method of care that pinpoints the problem area and corrects it by carefully applying pressure with the Integrator™. Because it is very gentle in nature, it is comfortable and absolutely safe for babies all the way up to elderly adults.
How Chiropractic Care Helps
Chiropractic adjustments work to correct spinal subluxations or spinal bone misalignments leading to nerve irritation. We see patients with complaints of all kinds. From those with minimum discomfort to those suffering from chronic disease – chiropractic care has something to offer everyone.
Of the conditions that bring patients in to see us, the most common include:
Poor range of motion
Digestive issues
If you are experiencing any of the above symptoms, you might be a good candidate for chiropractic care. Please do not hesitate to contact us with questions about your specific condition. We are happy to help you decide if chiropractic care is right for you.
Get Started Today
Your comfort is important to us. Throughout your time with Vitality Chiropractic, we want to hear from you and make you feel at home. All questions and concerns are welcomed. We are glad to help in any way we can.
Our hope is to help your family feel better today and stay well tomorrow. Depending on your needs, we offer preventative care, corrective care, and maintenance care. We are ready to meet you where you are at on your wellness journey.
Are you ready to join our community? We are ready to meet you and get you well. Get started by contacting us today.
CONTACT US »

Chiropractic Care Bayport, Stillwater, Oak Park Heights MN | (651) 342-2199