New Patients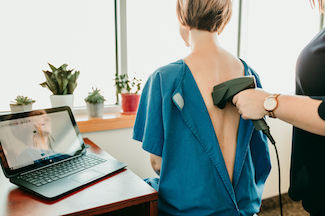 We understand that the first visit to a new place can be overwhelming. Vitality Chiropractic welcomes you to a friendly, skilled practice that is committed to your health and the health of your loved ones. We are here to take the mystery out chiropractic care and show you exactly what we are all about from the very start.
Whether you are a chiropractic veteran or chiropractic newcomer – you have a place in our practice.
Your First Visit
Upon your arrival, you will be greeted by name with a smile. You will quickly notice that you are like family here. We genuinely care about you and want to make your experience with us extraordinary. You will meet with Dr. Kathleen for a one-on-one consultation.
With us, a consultation is a conversation. We want to get to know more about you and help you learn more about us and how we might be able to assist in helping you achieve better health. During this time, we will gather all information necessary to determine if our approach is a potential solution that is right for you.
Your initial appointment will conclude with a detailed physical assessment. This non-invasive neurospinal examination will be done with our state-of-the-art INSiGHT® technology. It is our lens into your nervous system – ultimately, helping us to see how your body is adapting to and handling stress. We do not guess, we test. That way, we are sure to give you the specific care you need to reach your health goals. Depending on your condition, spinal X-rays may also be necessary.
Nice office and appearance of the facility. I felt comfortable during the visit as Kathleen talked me through the process. This made me feel confident I will see progress and improvement to my pain soon! Thanks!

Wonderful first visit! I would already recommend Vitality Chiropractic to my family and friends. Thank you!

Thank you for your professionalism and our family will definitely be making future appointments.

They truly learn about you and try to find the root of the issues. It is not just trying to have a quick fix so that you can come back again and again. I learned more about what may be causing my back and ankle issues in my first visit than I have in 15 years of going to the chiropractor.

I've been to a few chiropractors and I found this philosophy about chiropractic care to be more gentle and even though it was my first time, I found I could be more relaxed during the treatment.

I'm ready to start my journey of being healthy and feeling more energetic and peaceful!

Dr. Kathleen really takes time to understand me and my needs. She is kind, compassionate, and has a deep desire to help me do everything I can to allow my body to heal. Top notch!

I absolutely adore how Dr. Kathleen validated my struggles. It helped me feel empowered in this journey. Thank you!

Dr. Kathleen is so knowledgeable and helpful. She communicates thoroughly and listens to my concerns and answers questions with research and her experience. I appreciate her approach as a chiropractor and am so thankful I found this practice! In fact, I wish I had sooner.

Everyone was friendly. Chiropractor seemed genuinely interested in helping with our wellness, and was very professional and seemed to know what she was about. Looking forward to visiting in the future. Thank you.

Overall a great experience!

Explanation of what the Doctor was doing before doing it, as well as a thorough exam is exactly what I'm looking for in a Chiropractors office. I really appreciated the medical information. Thank You.

Dr. Kathleen is warm, caring, and an excellent listener. All of her adjustments are very gentle, and she does a great job of explaining them so you're not caught off guard by anything. Of the several chiropractors I have seen over the years, my body has felt the best under her care!

Dr. Kathleen and Rachel were so welcoming and knowledgeable!

Dr. Kathleen cares about our families health and takes time to make sure our needs are met at each visit. She is the best chiropractor I have ever had and I give anyone my full recommendation.

My family of 5 is under the care of Dr. Delander. When I first started care I was in a Lyme Disease flare up, my digestive system was severely in trouble and I had debilitating migraines 5 days a week. My body responded quickly to Torque Release Technique and after a only a few adjustments, my health completely changed and my symptoms subsided. For a year I was driving 4 hours round trip each week because of her sought after adjustments and genuine kindness. I've been her patient for 4 years and truly couldn't function without her. We trust her completely!
The Report of Findings
At the time of your second visit, Dr. Kathleen will meet with you to share her findings and care recommendations. You will receive a unique care plan that is designed specifically for you and your nervous system. We are glad to address all of your questions and concerns regarding upcoming care. Our practice is here to support you throughout your journey to better health.
Schedule Your Appointment
Your comfort is important to us. Throughout your time with our practice, we are more than happy to answer any questions that come to mind. We are also sure to explain every aspect of our approach prior to care. We want you to understand why we do what we do every step of the way.
What are you waiting for? Schedule your appointment today! We are excited to meet you.
CONTACT US »

New Patients | (651) 342-2199