Meet Jessica Tangen
Lactation Consultant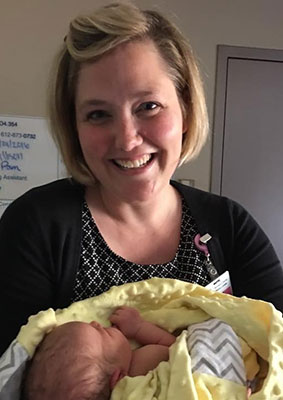 Jessica is an International Board Certified Lactation Consultant and comes to us with 8 years of experience in an inner city hospital. She has worked with babies as young as 22 weeks gestational age! She has extensive experience in the hospital setting as well as in a clinical setting. She earned her bachelor's degree in Maternal Child Health. She has 90+ hours of lactation specific education plus countless hours on the job. She also has recertified in those 8 years. She is a wealth of information.
She will work closely with you and your baby to reach your optimal feeding goals. There isn't just one way to feed your baby and the majority of families use a variety of different ways to get this accomplished. She will use an individualized problem-solving approach for your unique situation.
Your initial visit includes feeding assessment, infant assessment, breast/nipple assessment, discussion of feeding and health histories and a tailor-made care plan for your unique situation.
Get Started Today
To schedule an appointment with her visit:
http://lactationlink.com/consultant/jessicatangen/
Patients of Vitality Chiropractic receive $150 off the initial consult and 10% off follow up visits using code Jessica at checkout.


Jessica Tangen | (651) 342-2199