Pediatric Chiropractic at Vitality Chiropractic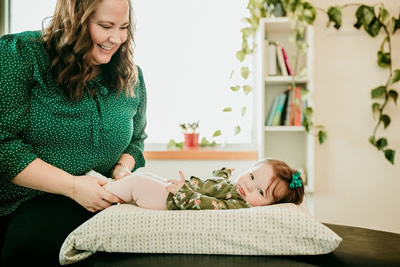 Vitality Chiropractic welcomes children of all ages. In addition to general chiropractic care, Dr. Kathleen specializes in pediatric chiropractic care. Her training through the International Chiropractic Pediatric Association (ICPA) allows her to meet your child where they are at and give them the care they need to live a happy, healthy life.
We are here to encourage infants and older children alike to grow and develop as healthy as possible. Whether your child has recently taken a spill or you simply want to get them checked – you have come to the right place!
Learn more about our approach to pediatric chiropractic care.
Chiropractic care has been proven beneficial not only for adults, but for children, too. Like adults, children are also met with many day-to-day stressors – more than any generation has been faced with before. Everything from the physical demand of sports to the emotional demand of school plays a role in their overall health. These physical, chemical, and emotional stressors can easily bombard the nervous system, leading to outward symptoms.
Chiropractic adjustments restore the connection between your child's brain and the body. This allows their body to adapt to stress in a healthy way. Dr. Kathleen is here to check your child, detect any misalignments, and carefully adjust them. Her hope is to relieve discomfort, and most importantly, set them up for proper growth and development.
Dr. Kathleen uses a chiropractic technique called Torque Release Technique (TRT) to adjust her patients. This technique requires a small handheld tool called the Integrator™ to gently address the spine. TRT is kid-friendly, as it works free of typical cracking or popping noises.
We want you to feel comfortable during your child's appointment. For this reason, prior to beginning care, we will always give you a detailed explanation of what we are going to do and how we are going to do it. Be sure to communicate any questions or concerns you might have throughout your time with us. We are happy to help.
Chiropractic care promotes optimal healing, growth and development, digestive function, immune function, and hormone balance in babies and kids. It has been known to help resolve a variety of pediatric concerns, including:
Neck pain
Ear infections
Colic
Reflux
Poor sleep
Bedwetting
Constipation
Nursing issues
Weak immune systems

We also see a lot of kids that struggle with neurodevelopment hurdles, including sensory processing disorder, ADHD, and autism. Feel free to reach out to us if you unsure whether or not chiropractic care might be able to help your child.
Start Them Young
It is never too early to get your child checked. In infants, even uncomplicated births can negative impact small spines. In school-aged children, rough play and sports can lead to spinal misalignment. Though these problems may seem small, they can become much bigger problems in the long run.
Dr. Kathleen looks forward to be a part of your family's health care team! Contact Vitality Chiropractic to make an appointment.
CONTACT US »

Pediatric Chiropractor Bayport, Stillwater, Oak Park Heights MN | (651) 342-2199